Climate changes and scarcity put pressure on water resources. To reverse this development requires collaboration across fields of expertise, behavioral changes and political reforms.
Water is one of the greatest current and future global challenges. We experience more frequent cloudbursts due to climate change, causing our sewers to overflow, yet at the same time, the scarcity of water elsewhere threatens public health and reduces food production.
By 2050, the world's population will have grown from 7 to 9 billion. This enormous upsurge means the need for water will increase by over 50 percent, if we continue our consumption at the current rate.
In the report, 'Environmental Outlook to 2050'  from 2012, the OECD (Organisation for Economic Co-operation and Development), estimates that about 1.5 billion people today live in areas seriously affected by water scarcity. According to the report, the number will increase to almost 4 billion by 2050, which will trigger a global food crisis, if we do not change our course.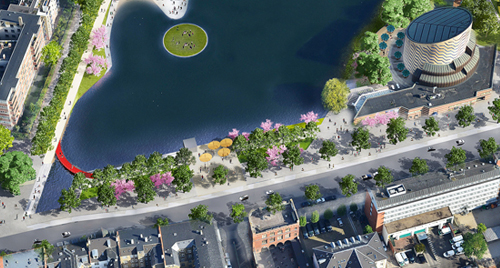 Image: Copenhagen Cloudburst mitigation plans will ensure less flooding and more blue and green recreational areas. The innovative plans provide a view into the future for cities around the world.
Travel further to find water
SørenHvilshøj, Ramboll's International Water Director has spent the past 20 years working to develop the international water and environment sector in more than 20 countries. He has substantial experience with the water sector problems, outlined by the OECD:
"Probably our greatest global challenge is the shortage of water, because this affects food and energy production. Also climate change, water pollution and the enormous waste of water are crucial issues to be tackled", he explains and continues:
"Many places in the world just don't have enough water. This is partly due to climate change, but especially due to increasing urbanisation. Cities are growing at staggering rates, and to find water requires travelling further and further away from the densely populated areas. This is not a sustainable situation. With the growing urban demand, groundwater levels are sinking, and this not only means that water supplies are drying up, but that the water quality is deteriorating, due to chemical changes in the soil layers".
Food or energy?
Agriculture is currently responsible for two-thirds of the world's water consumption, and projections show that in 2050, if we do not change our behaviour – more than twice as much food will be required at that time. At the same time, the demand for energy will also grow, which will increase water usage in the energy sector. But there is not enough water to meet this need. In order to avoid a global energy and food crisis, political reforms and new technological solutions will be essential to balance the interplay between water, energy and food. These three sectors are inextricably linked; when the energy sector uses more water, then there is less left for food production.
"For example, the food industry is adversely affected when governments choose to provide subsidies to fossil fuels. This kind of energy requires enormous amounts of water, and leaves less water to the food industry. According to estimates, OECD countries use between 50 and 90 billion US dollars, to support production and use of fossil fuels. Much of this money could be put to better use", says Helen Mountford, Deputy Director, OECD's Environment Directorate.
Sustainable energy tips the scale positively
In waste incineration plants, it is possible to generate energy and at the same time wind up with a surplus of water. Thus a share of the waste can be recycled to replace drinking water. In other words, smart energy production can generate water and not just deplete this scarce resource:
"Water is a by-product which can be extracted when heat is produced through condensation of steam in the waste gas.  You simply equip the incineration plant with wet scrubbers, heat exchangers and possible heat pumps to extract the greatest possible amount of water possible from the process, without letting it go to waste," says Tore Hulgaard, Senior Consultant in Ramboll's Energy Division, and continues:
"The amount of water is quite substantial. For example, at the new waste-to-energy plant in Copenhagen at Amager Bakke, it will be possible to extract a volume of water comparable to about 40 percent of the quantity of waste, when the plant is ready in 2016. If this highly effective condensation equipment is installed on all Danish waste incineration plants, the potential extraction is about 800,000 m3 water per year. Extracted water is actually quite clean. And then it gets purified even more before it can be discharged or used for other purposes outside the plant. In fact, it meets the standards for drinking water by a large margin, but the water is typically used for technical purposes, such as to replace the water in district heating or boiler plants."
Great potential for efficiency – also in agriculture
It is not only possible to use sustainable solutions in the energy sector to reverse negative water projections, but water consumption can be also reduced in agriculture, by as much as 25 percent, using more effective methods of irrigation.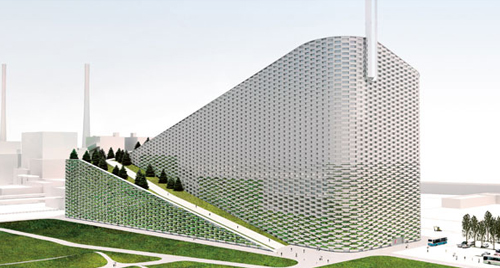 "In agriculture, there is a substantial water spillage when irrigating crops, and many countries still need to set clear eco-friendly goals for sustainable water usage," explains André Jol, Head of the Department of Vulnerability and Adaptation at the European Environment Agency.
He elaborates:
"Goals differ for how much water can be saved, depending on the environmental resources available in individual countries. But the common factor is that changes are needed to make sure there is enough water to retain the eco-system in the region."
"All indications suggest that we will and must change our behaviour and that we need to develop better technology. EU member states already do much to live up to the existing European directives regarding quality of drinking water and controlling the risk of flooding – and we will certainly see many more political initiatives in the future in the water sector" says SørenHvilshøj."
There is broad support from international organisations such as the UN and the World Bank, and the OECD recommends that political efforts focus mainly on three initiatives: the distribution of water resources between agriculture, households and industry; the preservation of water quality; and the protection of access to water and sanitation.
EU demands on governments
During the last three decades, efforts have been made in EU countries to learn about the challenges related to water, as well as to develop strategies and regulations.  These regulations are intended to support the governments of member states and to ensure that water reforms be implemented and maintained. A number of agreements have been established, requiring that EU member states live up to water sector standards.
One of the most significant regulations is the European Water Framework Directive (WFD) from 2000. This regulation is often seen to be the important driver in relation to building a sustainable water sector.  Included in this directive is a requirement that member states, as well as England, conduct frequent measurements of water quality to avoid pollution of drinking water.
"The main goal of the EU directives is to advise member states about the best way to integrate water policies into other legislation, and how to fill the gaps existing between water quantity and efficiency. The overall objective is to ensure that a necessary amount of water of good quality, available for all inhabitants throughout the EU," explains André Jol.
Master plans to improve living conditions
Even though water is less scarce in Europe than in Asia and Africa, there are many European regions without clean drinking water. This is the case in Romania, where lack of water and waste water systems in the countryside and some cities contributes to perpetuating a lower standard of living.
One of the projects originating from the Water Framework Directive is a master plan for the water sector in the Arad region of Romania. This project is subsidised by EU funds, which have been earmarked for improving water and wastewater facilities in Romania and to ensure compliance with guidelines of Water Framework Directive.
Ramboll's role, as consulting engineers, is to identify and prioritise the issues requiring the greatest attention and how the region can put the available funding to best use to improve water quality. This includes, for instance, upgrading sewer systems, the drinking water quality and supply stability.
Daniela Cancescu, Director of Ramboll Romania and project manager for the master plan which Ramboll is implementing for the Romanian government, explains:
"The primary objective of the project is to boost water quality, access to water and waste-water infrastructure, through better water supplies and sewer system drainage. This is being carried out in accordance with EU guidelines in most of the region's urban areas until 2015," says Daniela Cancescu."
The population of the Romanian Arad area is just over 250,000, and so far, 98 percent have clean drinking water in their homes.  This is a contrast to five years ago, when only three-quarters had direct access to clean drinking water. This project has also significantly doubled waste water collection, and reduced the region's water spillage.
Also in the Saudi Arabian city of Jeddah with a population of over 5 million people, Ramboll is actively contributing to the development of a master plan for the environment and water usage.
The coastal city experienced such extreme flooding in 2009 due to torrential downpours that the city government decided to draw up a master plan for the water and environmental sector. The plan includes a comprehensive analysis, accompanied by recommendations prioritising 16 areas for initiatives covering waste water, air pollution, waste disposal, ensuring clean drinking water and marine conditions. This master plan is currently under development by Ramboll's experts.
Reducing water spillage by 50 percent
It takes more than just strategies and directives to commit member states to reform their water policies. The EU and International Monetary Fund (IMF) have together issued environmental water regulations, in exchange for financial loans:
"One example is Ireland, where the EU and IMF have imposed charges on water consumption and need to minimise water spillage as a condition for receiving a crisis loan," says SørenHvilshøj, who recently received a delegation from the Irish government, to share knowledge about Danish success with reducing water spillage and climate adaptation.
"Water spillage occurs because the water distribution network is old or no longer functional, for example, because of unauthorised water connections. In Ireland, they struggle with a water spillage of 40-50 percent, and this is far from unusual. The Irish delegation was impressed that we in Denmark typically have water spillage of 5-10 percent, which is very low compared to most other countries", says SørenHvilshøj,
Pollution and flooding
In Denmark, we primarily have two major challenges in the water sector, according to SørenHvilshøj.
"The first is to adapt our cities to climate changes. This can be done by rebuilding sewer systems and establishing filtration reservoirs where water can slowly penetrate. This is one way to increase infiltration and also raise ground water levels, which are not polluted with waste water. This is something we work with every day at Ramboll, such as in the Danish town of Kokkedal, where we have drawn up a master plan for Denmark's largest climate adaptation project" explains SørenHvilshøj and continues:
"The other challenge is to secure a good drinking water quality. We have good supplies, but there are still incidences of pollution in the system. The solution is to improve the control systems and especially to introduce more technology in the water plants. We need to establish an alarm system with sensors that measure water quality online and that close the water plant down, when the sensors register poor levels," he continues
A cloudburst worth 6.2 billion kroner
In the Danish Ministry of the Environment, there is agreement that climate adaptation and clean drinking water are Denmark's greatest water challenges in the near future.
The flooding that occurred in Denmark after a major rainstorm in summer 2011 cost Danish society 6.2 billion kroner alone in insurance disbursements. And this sum does not include lost earnings – and many of extra damages caused by humidity and mould have still not been calculated.
"Our studies show that, in socioeconomic terms, it is far cheaper to prevent damages from climate change than just to let it run its course," says JakobMøller Nielsen, Head of the Office for Climate Adaptation, Water Sector and Ground Water at the Danish Ministry of Environment.
Most Danish municipalities now have a plan for climate adaptation to be implemented in the near future. These plans are intended to make Danish urban areas able to withstand heavy downpours and frequent rainstorms without flooding of sewers.
According to JakobMøller Nielsen, we are well on our way to reducing pollution from our households and industry. A good example is water in Copenhagen's harbour is now clean enough to swim in:
"This is because Danish politicians in the 1980's and 90's decided to lead the way with ambitious water environmental plans, which limited emissions of nitrogen and phosphorus. And in agriculture, we have significantly cut nitrate emissions and the use of artificial fertilizers by 50 percent, at the same time we have seen growth in our agricultural production. This can serve as inspiration for others elsewhere in the world".